As far as nesting was concerned, I always felt like I could take or leave it. Our home is pretty clean, organized...there wasn't much to do! But there was one part of nesting I was definitely looking forward to: designing and decorating your room!
I love home decor. It's always an ongoing project, and the possibilities are endless. The best part is beginning with a new room; there's nothing like that blank canvas! I really enjoyed creating a theme with each room in our home, and your room was no exception. Because of your first name, I knew I wanted it to involve elephants. Ellie just sounds like a girl who likes elephants - they're kind, strong, smart, and many cultures believe they bring good luck. Because of your middle name, I knew I wanted it to be pink. I wanted it to be girly, but I didn't want it to be baby-girly. I decided that if orange and gold accompanied this pink, we could create a bohemian theme, rather than a cutesy baby elephant theme.
Top to bottom, then left to right:
crib
,
elephant figurine
,
print
,
changing table
,
rug
,
garland
,
lamp
,
rocker
,
mobile
,
fabric
,
print
,
print
The result of that inspiration board is a fun, colorful, glamorous room that I hope you'll enjoy for years!
Your big sister, Chelsea, even has a bed in the corner. She really likes it, though she was uncooperative when it came to posing in it when these photos were taken.
The
diaper pail
even has a bag in it right now...that's how ready we are for your big debut! I thought the
orange baskets
were a nice addition to avoid getting things
too
pink. Here's a close-up of that print in the bottom right, since the glare makes it difficult to see: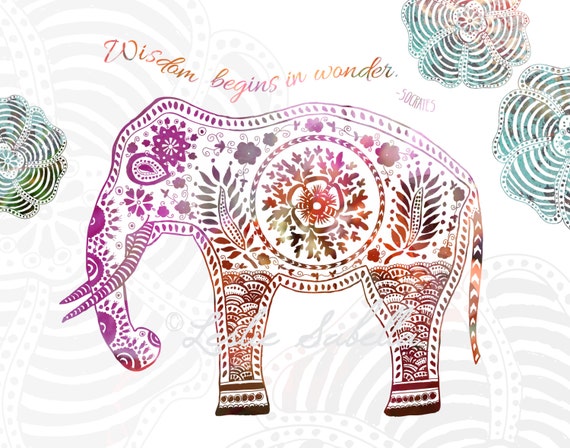 Yet another beautiful
Etsy
find!
Those sweet little shelves come from
Land of Nod
, which is a dangerous website for your mommy. They were perfect to display important objects that you're not quite old enough to handle yet. On this shelf, you have a
framed photo
of your mommy and daddy, as well as gilded elephants that belonged to your great-grandmother.
This shelf has another frame, but this one has pictures of you in it! The rattle and spoon were mine when I was a baby. Your daddy wore that grape soda pin (otherwise known as an Ellie badge) on our wedding day.
We got the confetti decals and the decal of your name at this great site called
Walls Need Love
.
That pink basket is full of nursing goodies so that I'll have them handy when we're in the rocker. Look at all of those great books and toys that people have given you!
The closet is still blue, as your friends Noah and Ryan used to live in this room before we moved in. We organized it as best as we could with some awesome Ikea finds.
The only thing missing is you!